On 23.11.2022 at the Launchee Center in Sofia Dimitar Hristov and Dimitar Filipov from CSKC and Stanislav Chervenkov and Teodora Sotirova from CEED, took part in a seminar that was organised by CEED Bulgaria.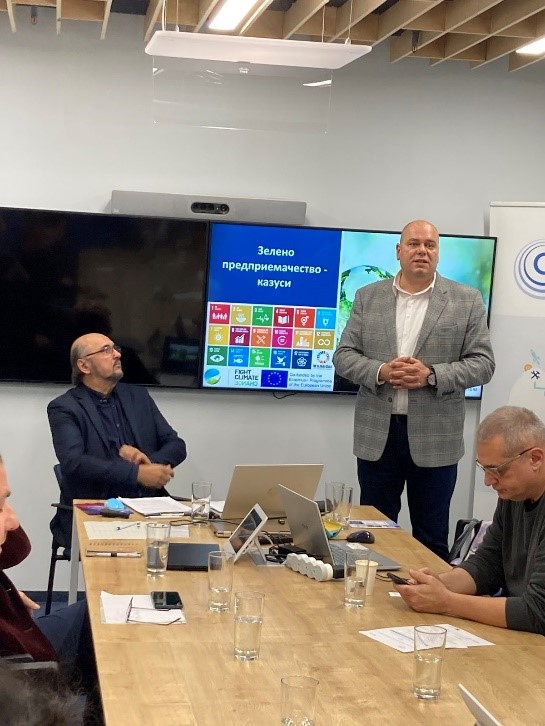 In the seminar were presented the goals and tasks as well as the achieved results of the following three projects:
DEGREBE
Fight Climate Change (FCC)
Joint Venture
The presented projects were united by a common theme of social and green entrepreneurship.
Dimitar Filipov talked about the goals for the Degrebe project with an emphasis on the role of gamification and the entrepreneurial skills the green economy is needed. Exemplary case studies taken from the Degrebe and FCC projects trainings and meetings in Brussels and Cyprus were presented.
Dimitar Hristov presented the Fight Climate Change project as a part of its dissemination strategy and then took part in a discussion panel on a topic "Perspectives for the development of social and green entrepreneurship in Bulgaria and Europe". At the discussion, he made a presentation named "Green entrepreneurship – business cases". During the presentation there was a discussion on the similarities and differences between traditional and social entrepreneurship. Based on the toolkits that are currently in preparation under the project FCC he proposed a definition of the term "green entrepreneurship" and put on the discussion table the topic about the role of green entrepreneurship in the fight against climate change. During the discussion, two from the collected under this project case studies were presented and two videos of these presented companies were shown.