The picturesque city of Prague, with its rich history and cultural heritage, played host to the latest joint staff event of the DEGREBE project, a collaborative initiative aimed at advancing knowledge and sharing resources among various participating institutions. From April 24th to April 27th, 2023, representatives from six organizations gathered at the Czech University of Life Sciences to engage in collaborative training and knowledge sharing. This event brought together participants from diverse backgrounds, fostering collaboration and promoting the exchange of expertise.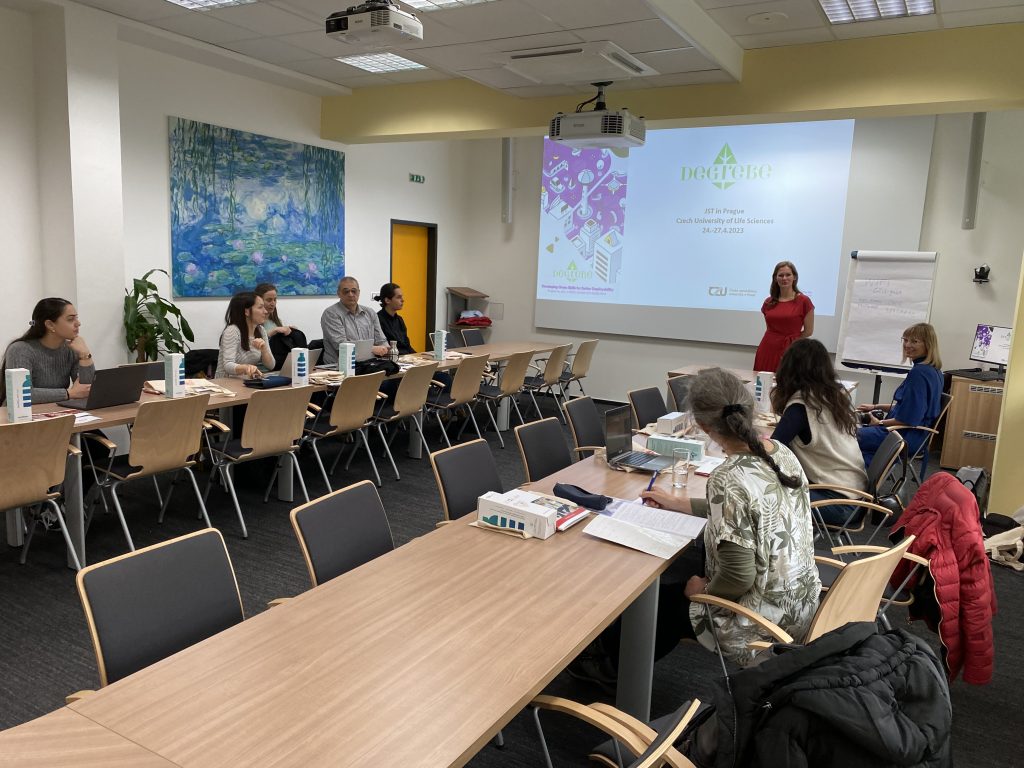 The event featured several key components:
PR1 – Knowledge Bases and Quizzes Testing:
All knowledge bases and quizzes were presented by their creators, with insightful discussions highlighting their strengths and areas for improvement. Several minor suggestions were noted, including:
IDEC's commitment to supplement their material with best practices from partner countries and political-related topics.
IDEC's plan to enhance the accessibility of their knowledge base.
CSKC's intention to add short explanations to the "20 tools to ideate" section.
The final knowledge bases and quizzes will be uploaded to Freedcamp by the end of May, ensuring easy access for all participants.
PR1 – The Visual Novel Game:
After the visual novel game testing, some partners sent bug lists and improvement suggestions to Trebag. Notable feedback included enhancing the back button, save button, and QR code. The deadline for sending bug lists to Trebag was set for May 5, 2023. Within the IT program, a separate tab for translations will be established, and translation efforts will commence after the platform development, with Trebag providing further details.
PR2 – Trainers' Guide:
In this segment, Jana Pitrová and Tereza Balcarová, creators of the trainers' guide, presented their knowledge chapters. Feedback was provided by participants:
IDEC suggested including more infographics, pictures, and schemes to make the text less dense and ensuring they are editable for translation.
KISLÉPTÉK received praise for an excellent chapter with no corrections needed, serving as a model for others.
CSKC was advised to fill in all the required information about the module at the beginning and end of the document, ensuring all pictures are editable and come with resources.
DEKAPLUS was encouraged to make pictures and tables editable and to improve text readability by using bullet points, infographics, and additional information.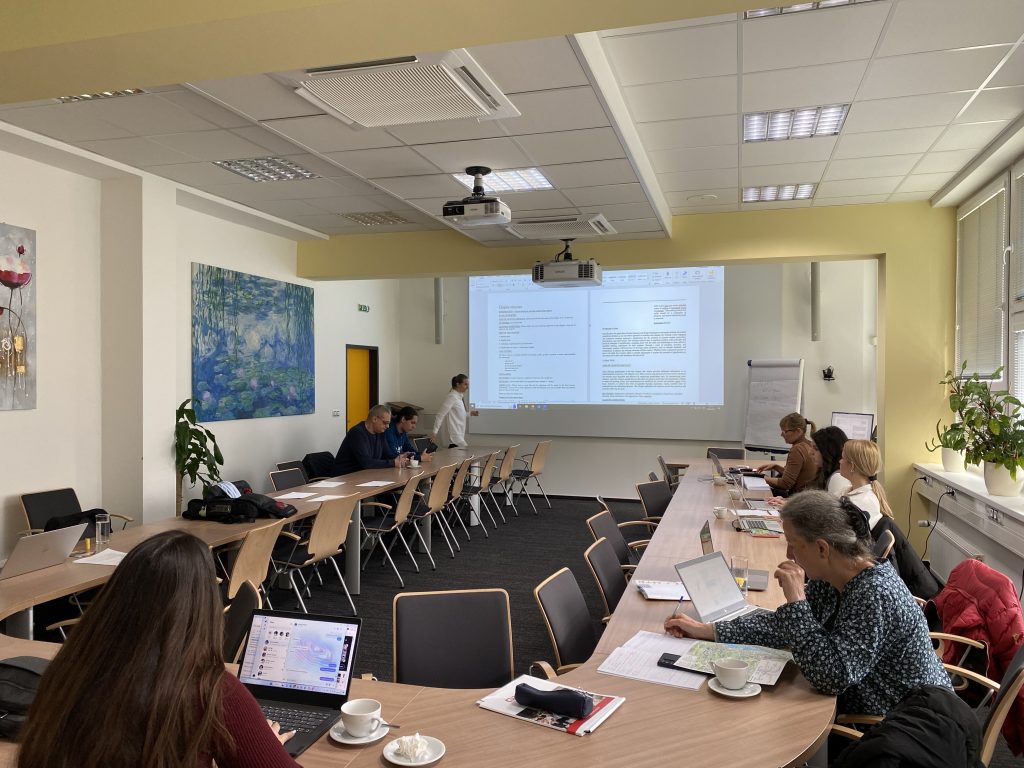 The DEGREBE project's joint staff event in Prague was a resounding success, with participants actively engaging in collaborative efforts to enhance knowledge sharing and educational resources. The willingness to offer constructive feedback and make improvements highlights the commitment of the participating institutions to the project's objectives.
The event's outcome promises a more robust and resourceful initiative going forward.
In addition to the productive training activities, participants had the unique opportunity to explore the state-of-the-art facilities of the Czech University of Life Sciences (CZU), including the cutting-edge food processing pavilion and the Human Research Behavior Unit (HUBRU), along with various other modern amenities. CZU's facilities provided a hands-on experience, showcasing the university's commitment to research and innovation in agriculture and related fields. Moreover, the backdrop of Prague's historical and architectural splendor added an extra layer of enrichment to the event, allowing participants to immerse themselves in the city's timeless beauty and cultural heritage, creating a truly memorable experience.